Modern Recycled Glass Collection | Clear
Regular price

Sale price

$12.00
Our Modern Glasses are handmade from recycled Moroccan glass. True artisan products - handmade with flecks & marks which make it perfectly imperfect.

As this is a handmade product, you can expect to find little marks and character of an artisan made piece. This may include variations with small bubbles, discolouration and unevenness in the glass. Imperfections are to be expected and that's what we love about them.
Details
Materials + Dimensions

Materials
Recycled glass

Dimensions
Small: H | 7cm / 2.7" D | 6cm / 2.4" Oz | 6
Medium: H | 9cm / 3.5" D | 6cm / 2.4" Oz | 8
Large: H | 11cm / 4.3" D | 6cm / 2.4" Oz | 10
Care
Sustainability

Sustainability
Our Moroccan glassware range is produced using recycled glass, giving these materials another life. Manufactured using a proven process for over half a century.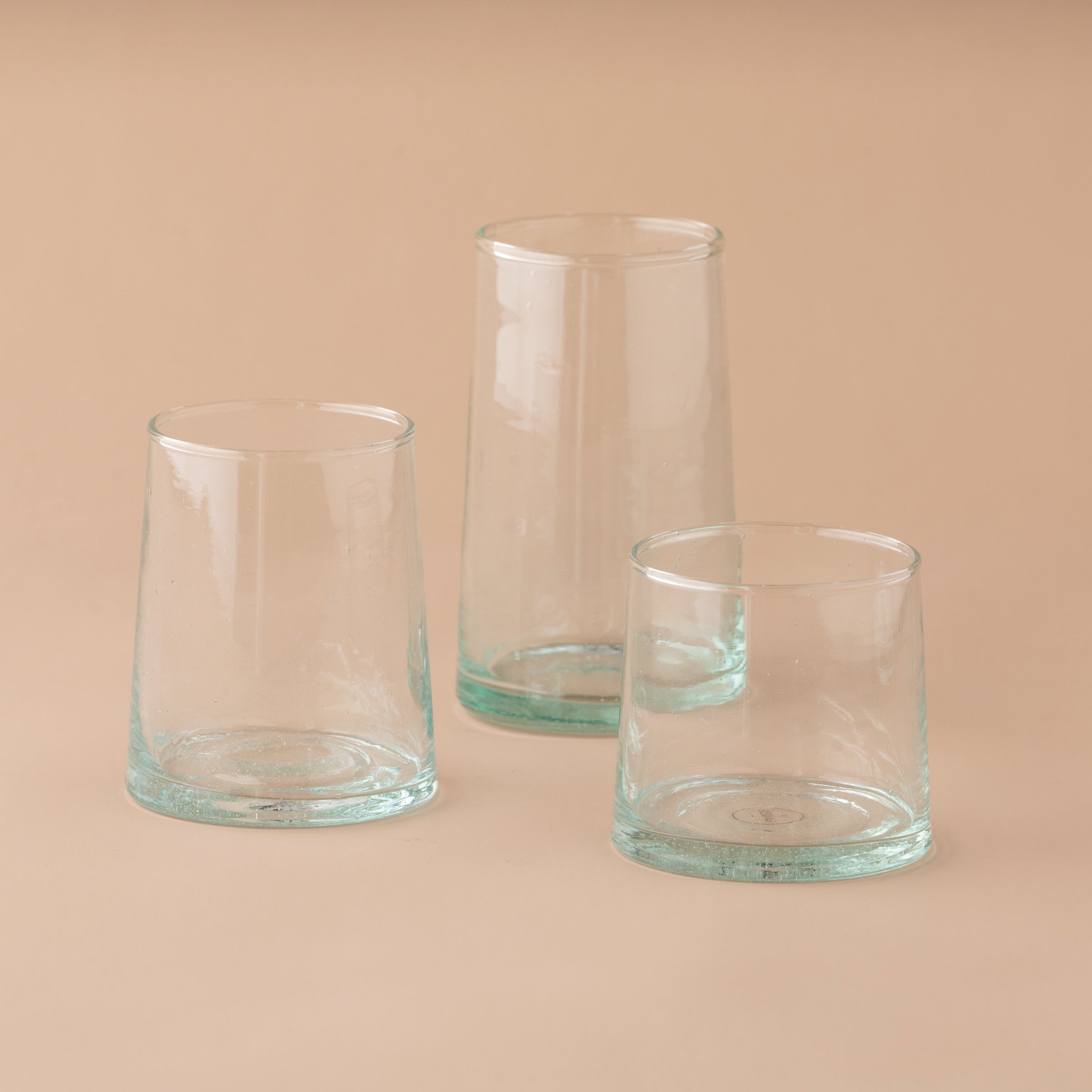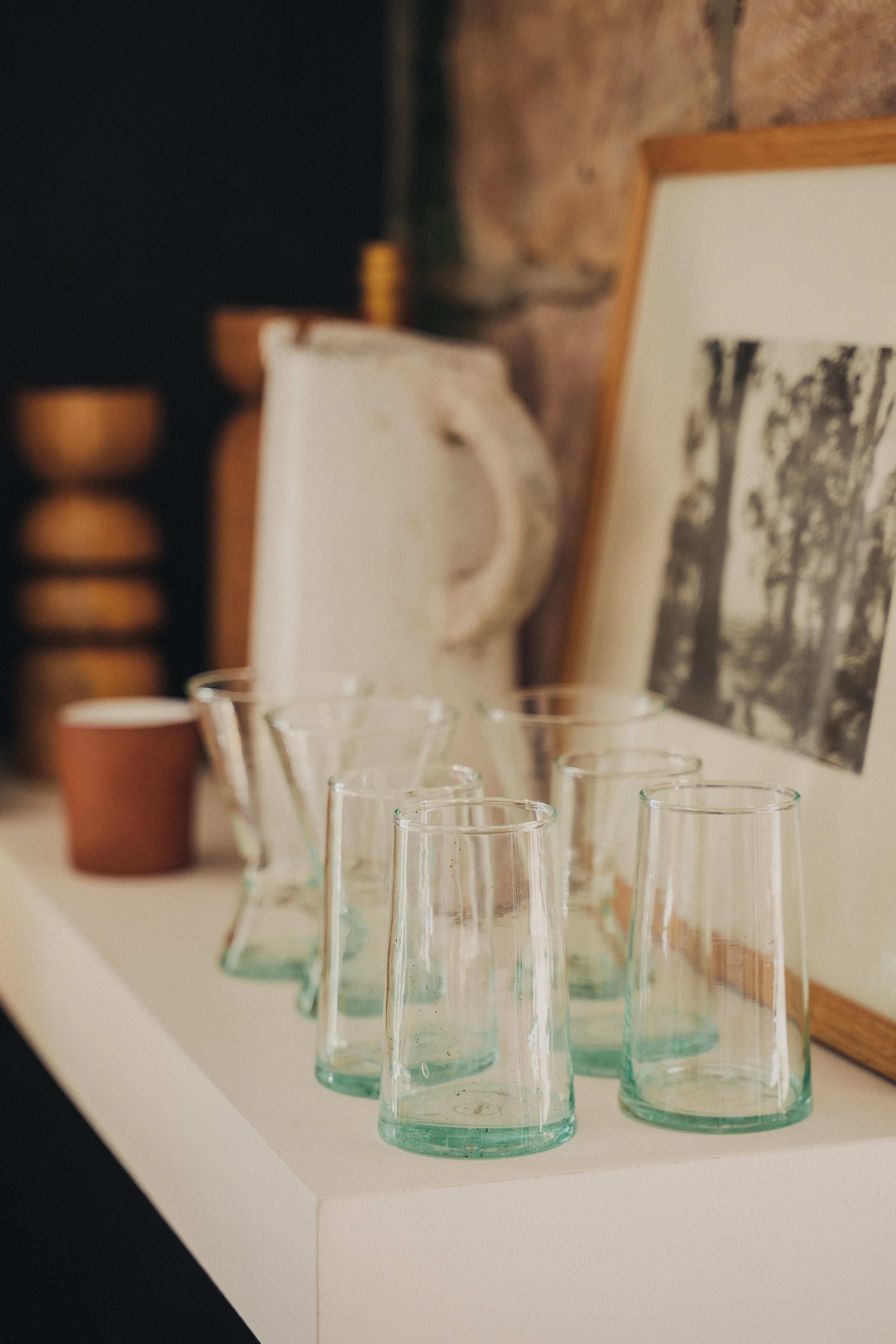 Gorgeous Recycled Glass
I love these glasses. They are perfectly imperfect and they are so incredibly beautiful. My only regret is not buying more and in the larger size!
unique hand-blown glassware
I fell in love and first purchased this glassware when travelling in Morocco 8 years ago and am so excited to have found an Australian stockist to expand my collection!
Although uniform in size, each glass is unique as they are all hand-blown using recycled glass. They are a perfect weight and thickness. The measurements are provided on the site for me to easily match the glasses I already own.
Very small
While I love the look and shape of these glasses, I thought from the pictures that they would be much larger than they actually are. I ordered them as larger water glasses and they just won't work for that purpose. They are more suitable as a cocktail or juice glass with how small they are in size.
Hello Kasey,
We are sorry that the product you recieved wasn't what you were expecting! We do have measurements for all our products on our website and always happy to clarify any questions beforehand. We can offer to refund your items if this suits. Thank you for giving us the feedback as it helps us to keep improving our systems for a better customer exprerience.
Eclectic but expensive
I had ordered 4 of the large glasses expecting a large size but to my dismay they appeared quite small to me. They are lovely to drink from with quite a weighty bottom, but one has already disintegrated into the washing up🤦🏽‍♀️
Thank you for your feedback Tanya. We do have the glass measurements in the product description but regardless, I am sorry you've had a disappointing experience. We will send a replacement glass for the one that broke while washing up. The breakage is an anomaly for this glassware. They can be cleaned in the dishwasher and we've sold thousands of them over the years which gives me confidence in the range. A glass will be in the post out to you today. We appreciate you letting us know.
Pretty Cocktail and Aperitif glassware!
The small size of these are absolutely adorable. Each one has a slightly unique shape, the slight jade tinge is lovely. Lip of rim is not too thick.
Free & Fast Shipping and

Orders over $100 ship free in Australia

International Shipping

Most items ship free on orders over 350. Learn More

Free Returns

Free 30 day returns within Australia.

Sustainable Packaging

All our packaging, including shipping materials, are recyclable cardboard or are biodegradable.